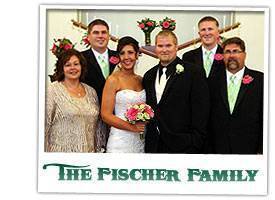 Welcome to North Grove Charolais!

We are family owned and operated business located 70 miles west of the Twin Cities.

We started our operation in 1994 with a purchase of 4 open heifers for 4-H projects from P and D dispersal.

Today our herd consists of 30 purebred Charolais cows, 25 commercial cows for our ET program. Here at North Grove

Charolais we focus on quality cattle that perform, and stand out in the show ring. We do our best to make superior genetics that will fit in your operation and ours. Our herd is 100% AI and Embryo Transplant. Our criteria in bull selection is backed by great cow families, sound structured, Depth of body, Docility, performance Data, and outstanding EPD's(estimated progeny Difference). By using AI in our herd it allows us to mate cows to the bull that best fits the cows needs.

Our Embryo Transfer program has been a very successful part of our Charolais operation. As of today our E.T program consists of 4 elite donors. These donors are backed by popular genetics in the Charolais world. Embryo's and flushes are
available through private treaty. Please feel free to look up the donor page as you will find there EPD's, performance data
and also their genetic back ground.

We market our cattle through consignment sales at Iowa Beef Expo, Black Hills Stock Show, Sioux Falls Empire Farm Show. We also sell show heifer's, bred heifer's and bulls private treaty. look up the sale page for updated pictures.

Whether you are in the market for your next herd sire, show heifer's, bred heifer's and brood cow's please feel free to contract us through email, Facebook or give us a call. We would be glad to help with any questions that you might have!
Visitors are always welcome at North Grove Charolais! Thank you for your interest in our Charolais cattle!